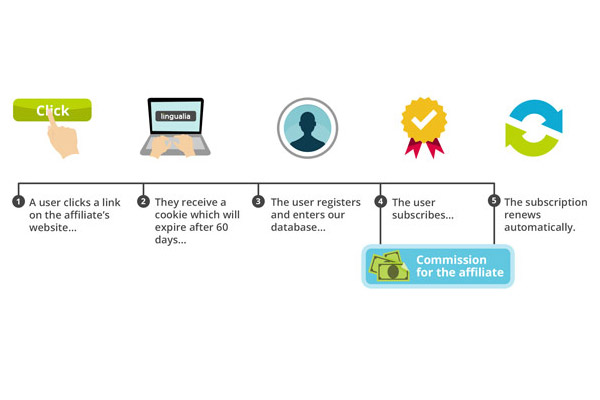 Lingualia affiliate program
The Lingualia affiliate program is the best tool to monetize your website traffic. Lingualia agrees to provide a commission to the affiliated partner for the sales generated by the visitors of the partner's website. The Lingualia affiliate program is completely flexible, totally free and can be canceled anytime.
Long-term commissions
Each referred client will generate commissions for the affiliate partner (both for the first purchase and renewals). It is a sustainable revenue source for the affiliate. Up to 50% commission for each sale and renewal.
Real-time performance
Affiliates have access to a private panel in order to check the number of visits that they refer to Lingualia, number of records, premium subscriptions, renewals and commission in real time.
5 minutes integration
Be an affiliate without any effort and start monetizing your traffic in 5 minutes. We take care of all the work so you can focus on your business.
Monthly payments
Lingualia will send you a monthly payment for all the sales achieved during that month. Easy and fast.