Our language courses are based on the levels which are defined by the Common European Framework of Reference for Languages (CEFR). Each course is made up of 4 different levels:
All learning material has been developed by certified, native language professionals with a rich background in foreign language teaching.
What's it like to learn with Lingualia?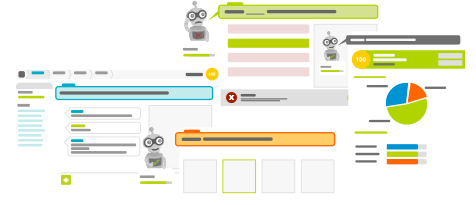 Our language courses are based on LinguLearning: a state of the art method which will revolutionise language learning.
LinguLearning is a personalised system designed to adapt course content to your exact level. If you find you have a good base knowledge of vocabulary, but need to brush up on your grammar, LinguLearning automatically tailors the course helping you gain a deeper knowledge of the areas which need more work.
The system is completely flexible; it adapts to your timetable. You can dedicate 10 minutes or an entire hour to your learning session and all your information is stored and synchronised on our system so you can pick up your session from wherever you want and on whatever device you want. You will always work at your own level and to your own schedule.
LinguLearning is about learning, practising and connecting with natives. Thanks to this system, you will learn new concepts in no time at all, while practising online to hone your skills and reinforce everything you have learnt. Always at your level and your rhythm.
Language courses include:
Grammar
Lingualia is one of the very few online courses which include detailed grammar flashcards. These are always accompanied by helpful examples of usage to that you can practise with multiple verbs, pronouns and adjectives.
Vocabulary
Effortlessly expand your vocabulary. To make this process easier, Lingualia includes helpful definitions, phonetics, examples of use and audios to guide you in your pronunciation practice.
Dialogues
You will find dialogues in every lesson. Practice your oral comprehension, pronunciation, and put the things you have learnt to the test.
Phonetics
At Lingualia, we understand the importance of great pronunciation which is why you will find audios to accompany all new words and phrases. We also include specific phonetics flashcards to deal with particularly difficult pronunciations.
Checkpoint
At the end of each unit you'll come across Lingu, your intelligent teacher, who will test all the new things you have learnt via a series of exercises and activities.
Revision
Lingu is always on hand to help you revise, but only the areas which need a little extra work. That's because our courses are personalised and adapt to you.