Learn to communicate and speak English in no time at all and with very little effort.
All didactic material for the English course on Lingualia has been developed by certified, native, language professionals all with a rich background in foreign language teaching.
Lingualia uses state of the art technology, and current trends in teaching to achieve an optimum learning experience allowing the student to progress faster in a shorter time.
The English course is based on the levels defined by the Common European Framework of Reference for Languages (CEFR). Each course is made up of 4 different levels:
LinguLearning Method
LinguLearning is our exclusive and revolutionary learning method.
The system is based on artificial intelligence which automatically personalises all content and adapts it to match the student's level needs.
No two students are alike, which is why this personalisation allows everyone to progress faster with much less effort.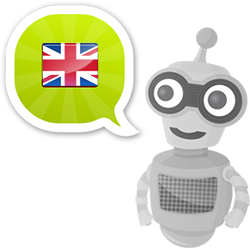 English Lessons
Lingualia is made up of 200 English lessons, divided into four different levels.
Each lesson has been designed to require little time and little effort. You will be able to express yourself in English after your very first day.
Revision
Each level includes a personalised revision system. Lingu – your intelligent teacher – will revise and evaluate all new concepts you learn along with way, at the same time putting this knowledge into practice.
English Dialogues
Improve your understanding of English with fun dialogues which are accompanied by a series of questions which put your comprehension to the test.
Each and every one of the 200 lessons includes at least one dialogue, with audio, to help improve your oral comprehension while at the same time putting into practice every word, expression, or grammatical structure which you have learnt.
English Grammar
Polish up your use of verbs, pronouns, adjectives, and word order. Every lesson includes grammar flashcards, organised by concepts, which you can access quickly and efficiently whenever you need to.
English Vocabulary
Learn thousands of important English words and expressions with the help of images and audio.
The English course includes more than 3,000 expressions and vocabulary words, accompanied by audio to help improve your pronunciation, a definition, and an example of usage to help you associate the word of phrase and facilitate learning.
English pronunciation
Learn to speak and communicate in English.
At Lingualia, we understand the importance of great pronunciation which is why you will find audios to accompany all new words and phrases. We also include specific phonetics flashcards to deal with particularly difficult pronunciations.